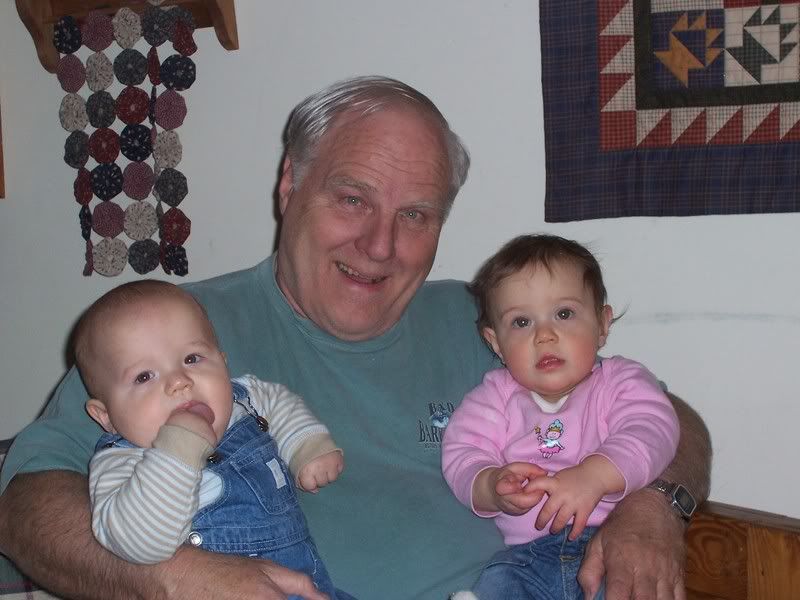 I don't think I've ever met anyone else in my life who is more selfless than my dad. When I see men who must have their "toys" and golf days and boats and 'guy time'...it is so foreign. My dad had none of these. My dad's job is one of hard physical labor repairing over head cranes. Last year for the first time, I saw one of these cranes close up and personal. What? You climb on those? You walk around up there? I had no idea how daunting they looked up close. My point? My dad had a physically and mentally stressful job and yet came home expecting nothing like golf days or time to read the paper or time to play the latest video games. He just dove right into whatever we were doing...serving up dinner, changing diapers, getting bathes and pj's done, playing softball catch out back, folding laundry, rocking a fussy baby...all in his work boots. He showed all his children, humbly, without even knowing it what a servant leader looks like. My husband and I have a running joke when he won't drop everything to do my bidding...."I'm not your father." he says. It is true that my dad had been known to run to the store just so we could have sprinkles for our ice cream cones when we ran out, but much more than that. He put his family first and their needs and wants before his own. He still does. He is spending this Father's Day alone because
his daughter's
well being and support is more important than his special day. That's just like my dad. Happy Father's Day, Dad! We love you!
To the Father of my children:
You are strong.
You are consistent.
You are loving.
You are fiercely loyal.
You are patient beyond measure.
You are a leader.
I love you.